Thanks your interest in part 3 of my personal tea story. If you have missed out on the previous parts, then you can find them here ->Part 1 ->Part 2
… so for a while now I had been infected by tea, but due to work and other personal reasons I simply could not follow it as passionate as I would have liked to.
To me life is about getting influenced and react to impulses. Luckily in 2012 there was an impulse, that started to change things for me to the good.
I was planning a business trip to San Francisco back then, I was to attend an online marketing conference with some other colleagues of mine. It was grand and I was very much looking forward to it, as I love travelling. Already a couple of weeks before departure colleagues of mine would share links with me on things they intend to do in San Fran during their free time off the conference. One of my colleagues thought of me and send me a link to the Samovar tea lounge in San Fran and proposed we should have some tea there. Sounded great to me!
I dove into it a little more and educated myself about the founder of Samovar tea – ->Jesse.
Jesse comes from the same online industry background I am coming from and it was fantastic to see that he turned his back on his old profession and followed his passion. He opened up his tea oasis – the Samovar tea lounge – right in the middle of the SF CBD. He also had a video blog, on which he posted "tea talks" with people from the online industry and elsewhere: Entrepreneurs, CEOs, Engineers, adventurers, Iron man contestants etc. He would invite them to his tea lounge, prepare some delicate tea and then host an interview in a very relaxed and open atmosphere. Great content that was and I loved how Jesse incorporated a story of the individual served tea into his talks and kind of used it to "frame" the whole conversation. I realized that the tea philosophy Jesse was promoting, was just as I envisioned it too.
For me it was no question: I wanted to visit this tea lounge and, if possible, meet this dude in person.
And while not succeeding in meeting Jesse, as he was on his premises in Hawai while I was in town (no way!? way!), I did get to visit the Samovar tea lounge and loved it. I went there once with friends and a second time by myself again as I enjoyed it so much. In fact I had my first encounter there with Pu Erh tea, which will forever connect this particular tea with San Francisco for me.
This experience and the example Jesse showed me, that I should get back on the tea path in order to get back on track and to feel happy again.  It felt like an inner small flame inside of me was starting to catch fire again and not just in regards to tea: My whole life was on the up again I could feel. I seemed to be perceiving a fresh breeze of positive change in the air, I felt liberated in a way. Other things in my life added to this positive feeling too, but tea and another thing seemed to make the groundwork for good things to flourish for me.
When I got back to Germany, I started incorporating tea not only more often in my daily routine at home, I finally also introduced it properly to my work life as well. In regular intervals I would try new types of tea at work and use only very fine quality tea. Now each morning at work I would take my time in the kitchen to mindfully prepare my tea in a beautiful tea pot and have it slowly at my desk while thoroughly going through work projects. It slowed everything down for me. But this did not mean, that I would actually work slower. In fact, I became a more effective and better worker, simply because I gave things a little more thought before I would start working on them.
In the end it was not a problem for me to resign from coffee either. As I now knew that tea and the time I put into it making it benefits my body and soul, coffee was just not an alternative anymore. Interestingly this constant fatigue I used to have in the morning before I was having my regular coffee, vanished too. Effectively I did not have to drink something in the morning anymore that kicks me awake, it was more that I wanted to drink something in the morning that comforts me and I found that in tea.
After that things pretty much accelerated big time for me. I started spending more and more time in tea shops again. I bought more and more tea for my personal collection and just loved trying out new stuff. Each new tea I purchased I saw as a little adventure, in which I could go on an exploration and discover things I have not experienced before. I also bought several more tea pots and came to a habit to use certain tea pots for specific teas. The more I dedicated time to tea, the more I found out that this whole tea thing is a microcosmos in itself and that there is so much out in there to learn, that a whole lifetime will not be enough to understand all of it. And that was a great feeling, the world seemed so big and mystical again.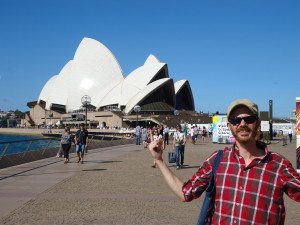 This new enthusiasm also helped me on other parts of my life. Just like Jesse from Samovar, I eventually decided to turn the back on my company and start a new life again. I had to get out into the big wide world again, it was calling for me, as I am a passionate traveller. I quit my job and decided to go to Australia, to travel the country and to find some temporary work there to finance my travels. An on my travels I wanted to share my fascination with tea with others and be the one that gives them a proper introduction to this beverage.
And thats what I did :-) Once I came to Sydney, I fortunately found a good job very quickly and settled down a bit. The first thing I was looking to explore in Sydney (after the opera house and harbour bridge) was the tea culture in the city. And it did not take long, that I connected with other tea lovers, found some beautiful tea shops and lounges in Sydney and used my free time to study on tea and tea history. Because of a big Asian minority, in particular Chinese, being present in Sydney, I had the opportunity to learn especially a lot about Chinese and Taiwanese teas from natives. And eventually teas from those areas actually have now become my most favourite ones.
I worked with big success in Sydney for 1.5 years for my company and after this time decided to leave and dedicate time to a project I had been thinking about a lot – a website dedicated to the worlds most peaceful beverage.
Thanks for reading! Enjoy your tea!
Morten